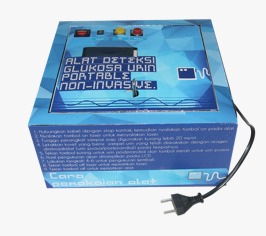 UNAIR NEWS – In medicine, blood sugar has an important role as the main source of energy for body cells. Generally normal blood sugar levels in the range of 70-150 mg / dl (milligrams per deciliter, ed). If it exceeds that range, it can cause diabetes.
Diabetes examination is often carried out using invasive method or blood tests to measure sugar levels. But not everyone can stand syringes or similar tools, and testing using needles will be problematic for patients with high blood sugar levels. It will lead to bleeding.
The advantages from the design of an infrared laser-based non-invasive urine glucose detection tool for diabetes mellitus detection are its ability to determine the results of urine glucose measurement quantitatively, qualitatively, and show results of detection, diabetes or normal.
Prof. Dr. Retna Apsari, M.Si., together with a team consisting of Prof. Dr. Moh. Yasin, Riky Tri Yunardi ST, MT, and Winarno, S.Si, MT, developed a non-invasive urine glucose measurement based on laser spectroscopy, which was named Urine Glucose Spectrolaser.
Prof. Retna explained she chose laser for the basic research because it is her area of expertise. Moreover, because the non-invasive state can only be conditioned using basic source photons or light, particularly laser which has given advantages as it is monochromatic, parallel, unidirectional, very thorough around the visible and infrared having the non-invasive nature.
Conducted process
According to Prof. Retna, the research that has been going on for one year was first carried out through determination of absorbance of urine wavelength. The wavelength of urine, she continued, is in the range of 1064 nm (nanometers, ed).
The laser used is a diode laser with a wavelength spanning 830 nm. Therefore, certain reagents were added so that the wavelength reached 1064 nm.
"So what matches with it is the Nd YAG 1064 laser, but it's expensive, when we actually want it to be used commercially. Then we level it down to the laser diode, " she explained.
Trial stage
The tests included in vitro testing and continued in vivo testing this year. In vitro or lab tests, according to Prof. Retna uses urine mixed with water with a certain concentration. In addition, also use the urine of people who are fasting or not.
Furthermore, the in vivo test will be followed by clinical trials together with a team that has a laboratory, tested directly to patients who have indicated diabetes. The plan to use this tool will be done by collaborating with the Indonesian Red Cross (PMI).
"The trial has been done, the in vitro test is through urine. Lab test equipment, initially the urine from fasting person or not given additional water to vary the concentration. Then we continue the urine of patients who have been diagnosed with diabetes for further trials of the tool. I used their patients as samples in this study. From the results of calibration of the tool with a dipstick reagent, 90% accuracy is obtained from the tool, " she explained.
The research which took 9 months for prototype development has entered the IPR registration process so the ideas are safe and can be protected. After the final optimization process, the patent will be filed before the tool is mass produced.
"It is hoped that this tool will be optimized this year and meet the requirements as an alternative instrument, so it can inspire in the community," said Prof. Retna, the Vice Dean I of Faculty of Vocational Studies.
The results of the study have been presented among international photonics peer groups at the International Laser Technology and Optics Symposium (ILATOS) which was carried out at Universiti Teknologi Malaysia in September 2019. In the forum, Prof. Retna acts as a keynote speaker.
With this research, Prof. Retna hoped that in the future the tool can be used as an alternative tool besides existing tools, at least as a non-invasive initial detection tool. It can also be especially beneficial for rural areas or areas far from the reach of laboratories and doctors. (*)
Author: Asthesia Dhea Cantika
Editor : Binti Q. Masruroh
Source: UNAIR News